I joined...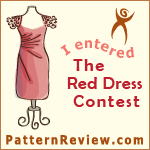 ...the Little Red Dress Contest at Pattern Review!
Nothing like a PR contest to get me going. Butterick 5917 had been on my short list for a while but I was worried about how the ruffles would behave. For me ruffles are a source of fascination but also fear because I definitely don't want to look like a piñata. Who does! I once made a Burda ruffled dress that I couldn't bring myself to wear for that very reason. Thankfully, I was reassured by looking at all the very nice versions of Butterick 5917 at Pattern Review, especially LlanoGirl's version in blue linen.
So, motivated by the contest, I took the plunge and I am very glad I did.
I made it in a wool that has a clear stripey structure, and also a boucle surface. The fabric is almost too thick for the ruffles, but I managed to trim and grade all the seams enough that the ruffle seam doesn't look too bulky. I was careful when ironing not to mark the seam allowances on the front panels. It is also not uncomfortable on the inside, in fact I didn't feel it at all when I wore it to work on Friday. Mmmmhh... now looking at the close up photo maybe I need to use a couple of prick stitches to hold those ruffles a bit closer to the middle panel at the bottom. Or perhaps it is just the angle of the photo...
I did make a couple of modifications: my usual sway back adjustment at the horizontal seam at back. I also would have converted the back slit into a kick pleat since I prefer the latter because they hang better, but I forgot (happens often around here...). I also shortened the bodice (front an back) by 2.0cm. I did this under the armhole, so as to not change its shape. I did this to bring the horizontal seam closer to the underbust line. I find that this is most flattering on me. After a day of wearing it I think I could have raised this seam by another 1-2cm further (note to self for the next version). Having raised this seam I then added 3.0cm to the skirt length (so I lengthened the skirt by only 1.0cm).
The short sleeves (version A) are supposed to be lined in self fabric. But my fabric is a bit itchy because of the wool and boucle structure, so I lined them with lining fabric instead. I really liked how these sleeves were drafted with a soft curve over the arm and not too much fabric at the under arm. And I also liked how nicely finished the hem is without having to hem them by hand.
The entire dress is lined, but I didn't have enough of one fabric so I took a page out of my friend Beth's sewing book and mixed lining remnants. A red silky polyester was the best color match so I used it for the sleeves and fronts in case a bit of the lining ever shows. A stripy red rayon with a bit of elasthan became the lining of the skirt for maximum comfort. Unfortunately by this point the bright reds were gone so I had to use a burgundy georgette to line one of the bodice back pieces. Not too pretty but I'm feeling virtuous for being so thrifty!
This Friday I wore the dress to work, but because it is rather cold (by our standards, 2-5C) I wore a turtleneck underneath as well as tights and boots. I wanted to wear a cardigan or jacket also, but I realized my only chocolate-brown jacket (RTW) has a mandarin collar which does not go well with the ruffles of this dress. So, I guess I will need to make a matching jacket for it one of these days.