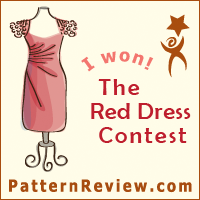 Woohoo! I cannot believe my good luck! My ruffled red dress was the random prize winner in the Little Red Dress contest at Pattern Review.
The prize was a gift certificate for Eva Dress patterns. Eva Dress was the sponsor of this contest and I have to say that their prizes are very generous. Given their pattern prices, this gift certificate was enough for at least 2 or 3 patterns from their site. And that is definitely a good thing because they have so many beautiful patterns that I would not have been able to choose only one.
If you have never visited them, you must check out Eva Dress right now. They sell reproductions of vintage patterns from the 1860's to the 1950's. I have never before bought a pattern from them, but I had my eye on a few of them already for a while. Now I get the chance to try them out, woohoo!
So here is what I ordered:
A dress from 1937 with a lovely gathered front.
A pattern for Claire McCardell's famous wrap dress from 1957.
And an incredible fur-trimmed coat pattern from 1929. This coat has been made before, by Jo Ann of Louisville, KY. You can see her review of this coat at Pattern Review as well. It won the 2013 Eva Dress Pattern Contest and I can see why, what a fabulous coat this is.
That fur collar is stuffed! How cool is that? I'm actually a bit intimidated by this pattern, but also quite keen to try my hand at it and see what comes out. That's one of the attractions of vintage patterns, isn't it, trying out things that you just don't see in modern clothes anymore.
I can't wait to get my Eva Dress patterns in the mail. Am I a lucky girl or what? Many thanks Pattern Review and Eva Dress!
P.S. The three pattern images above are taken from the Eva Dress website. They remain the property of Eva Dress.